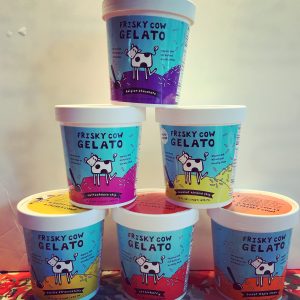 Frisky Cow Gelato made in Keene, NH, is a healthier alternative to American ice cream that tastes great and is made with single-source organic milk and local flavor ingredients. This is done by insuring that the cows where the milk comes from (Stonewall Farm in Keene) are happy, healthy and frisky. The brand is made with only the things that make gelato creamy and flavor-dense: hormone and antibiotic free, organic milk, real fruit, nuts and berries (often locally sourced), flavor creams and syrups made from scratch, and all natural local flavorings.
Company president, Linda Rubin, studied the art of gelato-making under Italian artisans at Carpigiani's Gelato University in Chicago, Ill. She reports being "obsessed" with offering a homemade frozen dessert that tastes great and "puts smiles on people's faces". "I gave my gelato the name, Frisky Cow, because I wanted it to be a very high quality, yet accessible and fun frozen treat - not something you would only eat at a fancy ice cream shop,' says Rubin.
FCG can be purchased in 4 oz and 16 oz containers at more than 20 farm stores, coops, and grocers in parts of VT, NH and MA. It is also sold at a number of Keene restaurants. A portable cart allows Rubin to cater weddings and parties, and provide gelato for sale at community events and farmers markets.
Pints of Frisky Cow Gelato have been approved for sale in three Hannaford stores in Rindge, Keene and Brattleboro in the new year.
In January 2020, FCG will introduce a custom flavor – called Mint Owl Crunch – to area stores. The new flavor, described as a "dark Belgian chocolate with all natural mint flavor and crunchy red and white candy "owl pellets", was developed by Rubin as a special tribute to Keene State College (KSC).
"Keene is a college town and I'm proud of the many roles KSC plays in helping to make our region of the state a very special place to live, learn, work and play in," says Rubin. More than 400 students, faculty and staff were involved in the creation and naming of the dedicated flavor with special support from the college's food services provider, Chartwells.  According to Rubin, 5% of the sales from Mint Owl Crunch will be donated to KSC for activities that support increasing access to local food on campus.
Frisky Cow Farm Products, Inc is a woman-owned business and a NH Benefit Corporation with a triple bottom line.  In addition to growing profits the company is also dedicated to being a force for good in the community and the environment and donates 5% of sales to local non-profits working to grow our local food system.
Her personal philosophy and values drive her business goals. "I think it's critical, especially in a rural part of the country like NH, for people to invest in their communities, to support the farms, restaurants, shops, and salons that bring color to our neighborhoods and towns and strengthen our local economy.
Frisky Cow Farm Products, Inc.
610 West Street
Keene, NH, 03431
603-757-2522
Facebook: @friskycowgelato
Instagram: @eatfrisky