2021 Leadership Monadnock Program Update
The Leadership Monadnock program, which usually begins in October, has been postponed to February 2021 due to COVID-19. If you are interested in being on a list to receive an application, email leadershipmonadnock@keenechamber.com or call (603) 352-1303.
Please stay tuned for more detailed information!
Developing Leaders, Shaping the Future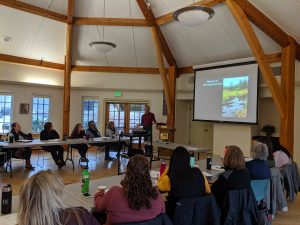 Leadership Monadnock is the cornerstone of a regional strategy to develop and enhance the communities of the Monadnock region. As emerging leaders, participants will engage with others in the community to encourage diversity and vitality and learn about the challenges and opportunities of the Monadnock region and to our state. The ideas, strategies, and contributions of Leadership Monadnock associates shape the future of our region and enhance the quality of life in our unique part of New Hampshire.
Mission
Leadership Monadnock promotes the development of emerging community leaders by:
Exploring regional issues
Fostering involvement
Encouraging action and commitment
Challenging each participant's overall perspective
Program Overview
Leadership Monadnock is an intensive nine-month program beginning in October with orientation, and ending in June. Full-day meetings take place once a month with each session designed to immerse participants in the truly critical aspects that drive the dynamic nature of the regional economy and quality of life. Each session is structured to present all aspects of an issue through a combination of presentation by industry experts, group discussions, workshops, field trips, and other experiences. Participants will have access to community leaders who are experts in their respective fields and include current and potential leaders representing business, government, education, civic groups, social services, the arts, the religious community and other organizations in the region.
Become a Business Sponsor!
Position your organization as a community thought leader by partnering with this highly successful program which has graduated over 400 emerging leaders from our region since its founding over 20 years ago.
Applying for the Program
Applications are available for Leadership Monadnock in August. To download a 2019-2020 application Click Here call Leadership Monadnock at the Chamber (603)352-1303, or email leadershipmonadnock@keenechamber.com. The application deadline is September 20, 2019. Financial aid may be available for a limited number of individuals. The application process is competitive, and applicants not selected are strongly encouraged to re-apply for a future class.
Completed application should be mailed to: Leadership Monadnock C/O GKCC, 48 Central Square, Keene NH 03431
Selection Process
All applications are reviewed by a selection committee. Notification of selection status will be communicated as soon as the class is selected. Selected participants must be willing to demonstrate a strong, personal commitment to invest the time and energy to attend all of the sessions and to engage actively in the program.
Tuition
Leadership Monadnock tuition is $950. This covers the costs of materials and meals. Regional employers are encouraged to support participants by providing tuition assistance. The total fee will be billed and is due upon acceptance into the program. Payment plans can be arranged.
Sessions
Leadership Monadnock dates and curriculum-meetings will be determined soon. Meetings will cover a range of topics including community development, government and policy, health and human services, education, criminal justice and public safety, arts, culture, and recreation.
2019-2020 Leadership Monadnock Program Sponsors: