Developing Leaders, Shaping the Future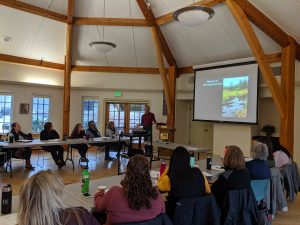 Leadership Monadnock is the cornerstone of a regional strategy to develop and enhance the communities of the Monadnock region. As emerging leaders, participants will engage with others in the community to encourage diversity and vitality and learn about the challenges and opportunities of the Monadnock region and to our state. The ideas, strategies, and contributions of Leadership Monadnock associates shape the future of our region and enhance the quality of life in our unique part of New Hampshire.
MISSION :
CONNECT ~ COMMUNICATE ~ COLLABORATE
Leadership Monadnock promotes the development of emerging community leaders by:
Exploring regional issues
Fostering involvement
Encouraging action and commitment
Challenging each participant's overall perspective
Program Overview
Leadership Monadnock is an intensive nine-month program beginning in October with orientation, and ending in June. Full-day meetings take place once a month with each session designed to immerse participants in the truly critical aspects that drive the dynamic nature of the regional economy and quality of life. Each session is structured to present all aspects of an issue through a combination of presentation by industry experts, group discussions, workshops, field trips, and other experiences. Participants will have access to community leaders who are experts in their respective fields and include current and potential leaders representing business, government, education, civic groups, social services, the arts, the religious community and other organizations in the region.
Apply for Leadership Monadnock
To apply for the Leadership Monadnock program, click below to fill out an application. Completed applications can be emailed to leadershipmonadnock@keenechamber.com. The application deadline for the 2022-2023 cohort is September 14th, 2022. Feel free to call the Greater Keene and Peterborough Chamber with any questions 603-352-1303.
Become a Leadership Monadnock Business Sponsor!
Position your organization as a community thought leader by partnering with this highly successful program, which has graduated over 400 emerging leaders from our region since its founding over 20 years ago.
Contact LParis@Keenechamber.com for more information
Selection Process
All applications are reviewed by a selection committee. Notification of selection status will be communicated shortly after the application deadline as the class is selected. Selected participants must be willing to demonstrate a strong, personal commitment to invest the time and energy to attend all of the sessions and to engage actively in the program.
Tuition and Financial Assistance
The total tuition for Leadership Monadnock is $995. This covers the costs of materials and meals for each monthly session. Regional employers are encouraged to support participants by providing tuition assistance! The total fee will be billed and is due upon acceptance into the program,  payment plans can be arranged if needed. There may be a limited number of scholarships available, if interested in learning more about financial assistance please email leadershipmonadnock@keenechamber.com or indicate interest with your application.
Class Sessions and Schedule
Leadership Monadnock class sessions will be held on the second Tuesday of the month beginning in October 2022 and ending in June 2023. Class times are from 8:30 am-4:00 pm. Meetings will cover a range of topics including community development, government and policy, health and human services, education, criminal justice and public safety, arts, culture, and recreation.