Hiking and Camping in the Monadnock Region of Southwest, New Hampshire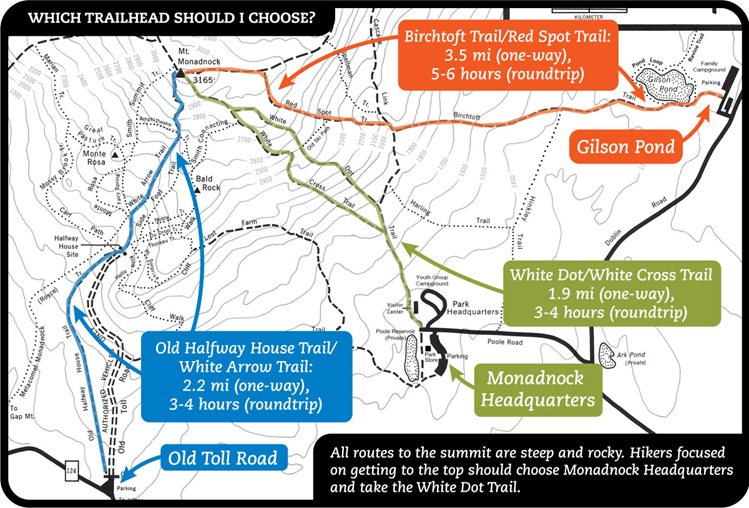 Hiking and Camping Resources
Places to Hike in the Monadnock Region
Pack Monadnock in Peterborough/Temple is a great hike, with a few trails to choose from, leashed dogs OK. https://www.nhstateparks.org/visit/state-parks/miller-state-park
Harris Center for Conservation Education, 83 King's Highway, Hancock – Miles of trails to explore. https://harriscenter.org/trails-grounds-facilities/trails
Chesterfield Gorge Natural Area, NH 9, Chesterfield NH – Great walk of about 1/2 mile, beautiful in the fall.
Madame Sherri's Forest and Castle, Gulf Road, Chesterfield – Society for the Protection of NH Forests.
Gap Mountain Reservation, Gap Mountain Road, Troy/Jaffrey – north trailhead and a south trailhead, which can be strenuous, leashed dogs OK. Wild blueberries grow at the top. Some views of Mt. Monadnock. https://forestsociety.org/property/gap-mountain-reservation
Mt. Monadnock, 116 Poole Rd, Jaffrey, but access also from Dublin and Marlborough – 3,165 feet; has over 30 miles of main and connecting trails for hiking. Day use fees apply. Gilson Pond Campground is open early May to mid-October. No dogs. https://www.nhstateparks.org/visit/state-parks/monadnock-state-park
Little Monadnock Mountain in Rhododendron State Park, 424 Rockwood Pond Rd., Fitzwilliam – The total hike is about 1.2 miles with an elevation gain of about 700 ft. When the rhododendrons are in full bloom it is a beautiful sight. https://www.nhstateparks.org/getmedia/908a66a4-1c77-44ab-9d27-b8b8023a79c9/Trail-Information.pdf
Fox State Forest Hills, 309 Center Rd, Hillsboro – Well-developed trail system of about 22 miles that receive year round use by hikers, cross-country skiers, snow-shoers, hunters and mountain bikers. https://www.nhdfl.org/Natural-Heritage/State-Owned-Reservations/Fox-Forest
Cathedral of the Pines, 10 Hale Hill Road, Rindge – Trails through woods, by the lakes, see birds and animals. Dogs welcomed. https://www.cathedralofthepines.org/trail-photographs/
dePierrefeu-Willard Pond Sanctuary, Willard Pond Road, Antrim – Multiple hiking trails, part of the NH Audubon Society. http://www.nhaudubon.org/depierrefeu-willard-pond-sanctuary/
Cranberry Meadow Pond Trail, East Mountain Road, Peterborough – Trail was made possible through the generosity of many private landowners along the corridor and the help of local foresters, the Peterborough Recreation Department and the Peterborough Conservation Commission. https://www.monadnockconservancy.org/pdf/CMPT-trail-guide-and-map_FINAL.pdf
Shieling Forest, Old Street Rd, Peterborough – Operated by NH Division of Forests and Lands; Forestry Learning Center, educational programs, trails. https://www.nhdfl.org/Natural-Heritage/State-Owned-Reservations/Shieling-Forest
Wapack Trail, Greenfield – One of the oldest public, interstate hiking trails in the United States. Opened in 1923, it follows the Wapack Range north-south for 21 miles, between Mt. Watatic in Ashburnham, Massachusetts and North Pack Monadnock mountain in Greenfield, NH. https://www.nhmountainhiking.com/hike/lists/wapack.html
Distant Hills Gardens and Nature Trail, 66 March Hill Road, Alstead – Parking is available at the trail-head just off the paved road. https://www.distanthillgardens.org/distant-hill-nature-trail/
Horatio Colony Nature Preserve, Daniels Hill Rd., Keene
Pitcher Mountain, NH 123, Stoddard – Parking lot is on NH 123. Hike is easy to moderate. There is a fire tower and lots of blueberries in season.