You will find a wide variety of jobs in the Monadnock Region, from high tech manufacturing to nonprofit.
Unemployment hovers at a lower-than-national average, less than 3 percent for both Cheshire and Hillsborough Counties. Industries are diverse — from machining, to high tech, to green industries, to farming and local food enterprises. If entrepreneurship is more your style, the opportunities for advice and help in starting a business in the region is plentiful; starting with the Hannah Grimes Center for Entrepreneurship and the Small Business Development Center, both in Keene. If you are retired and looking to keep busy with meaningful work, the opportunities are endless — from animal rescue to teaching children to read; start with the Monadnock RSVP Volunteer Center for ideas.
Cheshire Medical Center/Dartmouth Hitchcock Clinic-Keene
C & S Wholesale Grocers
Monadnock Paper Mills
Keene School District
Keene State College
Smiths Medical
www.smiths-medical.com/careers
Markem-Imaje
Liberty Mutual/Peerless Insurance Company
The Main Street America Group
Franklin Pierce University
Build Skills. Build Confidence. Build Your Career
WorkReady NH is a practical, tuition-free program designed to meet the needs of job seekers and career builders by providing training in specific skills that employers are looking for in their current and future employees.
Learn more about New Hampshire's Community College System and the Work Ready NH program here.
Why I Moved Here!
Shane Gormley and his family live in West Chesterfield, NH. He is the project manager for IT Logistics and Transportation Systems at C&S Wholesale Grocers in Keene. Shane, a native of England, has lived in the region for four years.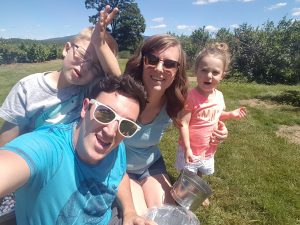 Shane moved to the Monadnock Region from England after completing a study abroad program at Keene State College; while here, he says, he fell in love with the natural beauty of the area. "The quintessential small-town America feel of Keene; the lively mix of tradition and innovation and the people — including my now wife."
The best part about living in the region, he says IS its people. "I consider the people within the Monadnock Region the glue that holds the fabric of our society together. There is a strong collective desire to make the region thrive, mixed with genuine kind-heartedness and a strong sense of regional pride, which infuses the Monadnock Region with a level of passion that is unparalleled."
Shane notes that he has learned about this regional pride and passion first hand by participating in the Leadership Monadnock Program (a Greater Keene Chamber of Commerce program) and working at C&S Wholesale Grocers for the past four years. "Despite employing (more than) 17,500 people across the U.S.," notes Shane, "C&S has found a way to retain a family feel which I really appreciate."
Shane says he made a very purposeful decision to live in the countryside, feeling that it would have a good impact on his children. "I feel very fortunate to live in West Chesterfield, near Lake Spofford, not far from Keene and Brattleboro, and surrounded by state parks, like Pisgah and Chesterfield Gorge. So far, we have been visited by a turkeys, deer, foxes and a skunk."
Like many newcomers (and natives) to the region, Shane has delved into volunteer activities at work and in the community. He participates in C&S voluntary events, such as building a playground for Cedarcrest Center for Children with Disabilities, donating to the United Way, and participating in National Hunger Month.
Shane feels an incredibly strong sense of community in his adopted home, more so than any other place he has lived, he says. "The folks in this region are highly creative and innovative — highlighted by the number of local businesses and the success of organizations such as the Hannah Grimes Center. They are also generous and compassionate — emphasized by the number of nonprofits, volunteer opportunities and the fantastic people who make them happen; many of whom I had the pleasure to meet during my time on the Leadership Monadnock Program and C&S."
What makes the Monadnock Region different? He says that the rural charm is irresistible. "The quaint main streets bustling with local businesses; the strong sense of belonging that blossoms from the community working tirelessly together to bring exciting events to life; the farms, the parks, the trees. Everything in the Monadnock Region has a 'craft' appeal to it, as though every minute detail has been carefully reviewed, selected and deployed with aplomb, to leave behind an inescapable feeling that the Monadnock Region is something very special."