Covered Bridges of the Monadnock Region
Ashuelot Bridge, Winchester NH
South of NH Route 119 in the Upper Village of Ashuelot on Bolton Road over the Ashuelot River in the town of Winchester
Coombs Bridge, Winchester NH
West of Route 10, one-half mile southwest of Westport Village on old Westport Road over the Ashuelot River
Slate Bridge, Swanzey NH
East of NH Route 10 on Westport Village Road near Westport Village over the Ashuelot River in Swanzey
West Swanzey Bridge, Swanzey NH
East of NH Route 10 on Main Street over the Ashuelot River in West Swanzey
Sawyer's Crossing, Swanzey NH
One mile north of NH Route 32 near the site of an old Native American community on Sawyer's Crossing Road in Swanzey spanning the Ashuelot River
Carleton Bridge, Swanzey NH
East of NH Route 32 on Carleton Road, one-half mile south of Swanzey Village spanning the South Branch Ashuelot River in Swanzey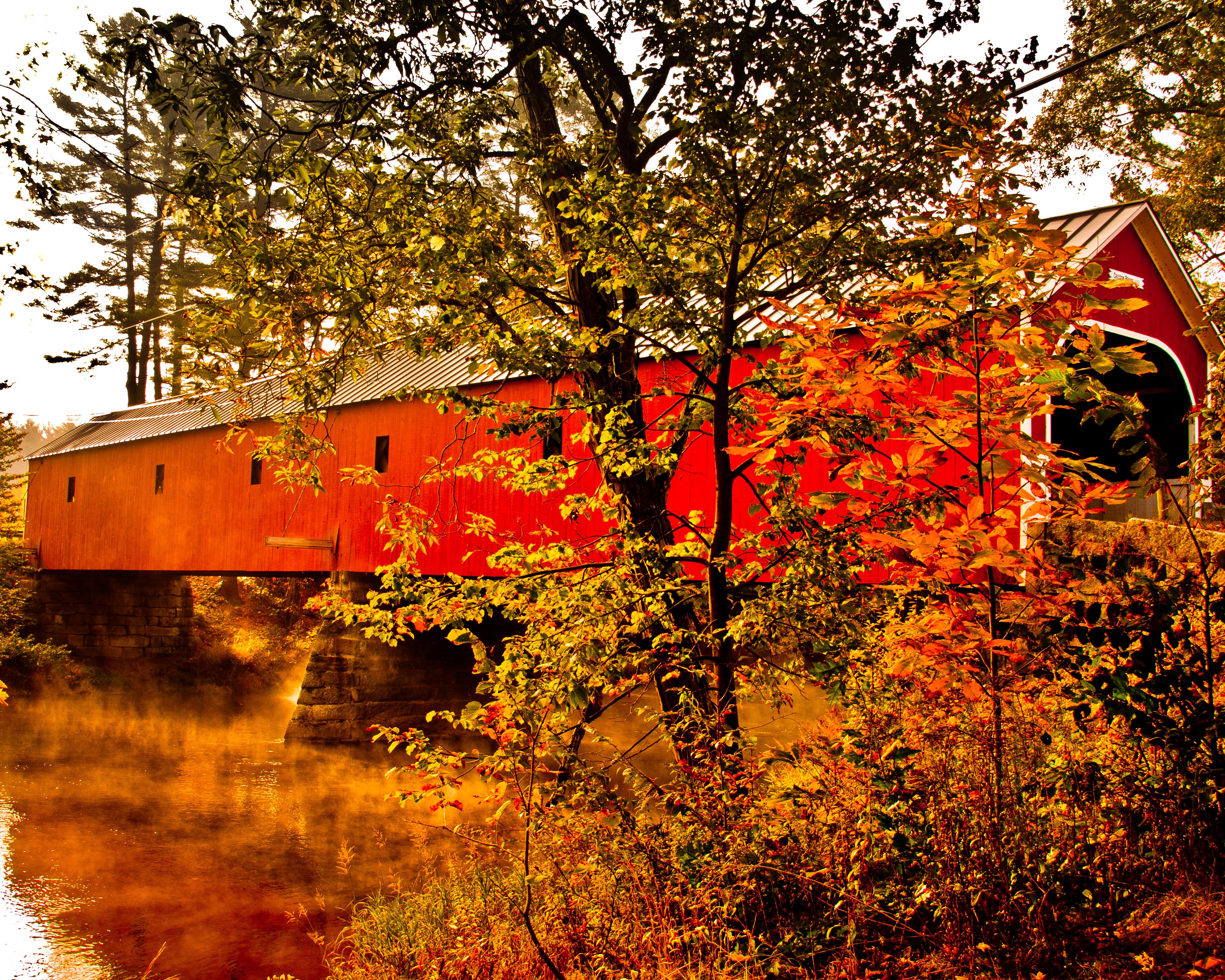 Top 10 things to do in the Monadnock Region
Climb the "Twins" – Mount Monadnock (Jaffrey) and Pack Monadnock (Peterborough's Miller State Park)
Go on a covered bridge tour (Winchester and Swanzey)
Visit the Cheshire Children's Museum (149 Emerald Street, Keene)
Visit the Historical Society of Cheshire County (246 Main Street, Keene)
Go to a Keene Swamp Bats baseball game
Attend an Apple Hill Chamber Orchestra concert (Nelson)
Attend Art in the Park (Labor Day Weekend, Keene)
Go blueberry, raspberry or apple picking
Take the Walldogs Mural Art Tour in Keene (www.walldogs.com)
Things to do in Keene:   Explorekeene.org
Monadnock Region Recreation
Mount Monadnock, Jaffrey
One of the world's most-climbed mountains, Mount Monadnock is a favorite of both expert and beginning climbers. Visit nhstateparks.org for trail and map information.
Pisgah State Park
Route 63, Chesterfield
Open year-round for hiking, biking, snowmobiling and ATVs, Pisgah has over 13,000 acres of rough terrain surrounding a watershed north of the Ashuelot river.
Chesterfield Gorge
Route 9 Chesterfield
The Chesterfield Gorge has 13 acres of beautiful trails to hike with many scenic waterfalls. Open year round.
Wantastiquet-Monadnock Hiking Trail
The 50-mile Wantastiquet-Monadnock Hiking Trail (WMT) can be hiked over its whole length from Brattleboro to Mt. Monadnock. Well-known public lands along the trail include the Mt. Wantastiquet, Bear Mt., Pisgah and Mt. Monadnock State Parks, the Horatio Colony Preserve, the Cheshire Rail Trail, and the Forest Society's Gap Mountain and Monadnock Reservations and Madame Sherri Forest.
For more information and trail maps, visit https://forestsociety.org/wantastiquet-monadnock-trail.
For hiking trails near in and around Keene, visit the City of Keene's park and trail finder.
Trail Finder.com also has trail information for the Monadnock Region.