Joy's Network is a local organization dedicated to all the mothers, fathers, sisters, brothers, children, family and friends who have been touched by cancer. In loving memory of Joy (Diemond) Herrick who passed away from Cholangiocarcinoma on August 5, 2009. Her memory and spirit live on through all that they do. With help from their volunteers and sponsors they deliver cancer care packages to patients in the Monadnock Region. They also offer gas, grocery assistance, financial assistance for living expenses, and peer support. "The need for assistance has grown exponentially over the past few years" says Kim. "Since 2016 the total number we've supported annually with financial assistance increased from 22 in 2016, to 63 in 2018, and we've already served 33 families in the first half of 2019". "This is why our fundraising events are so crucial, the more successful they are the more we can help those in their time of need". For more info on Programs and how to apply visit the website "Apply Page".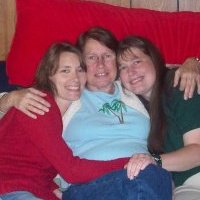 Joy's Memory & Spirit Lives On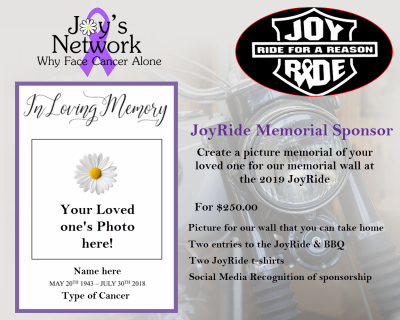 Together We Are Tougher Than Cancer
Joy's Network hosts two annual fundraising events to obtain the funds that help these local families.  In the winter they have their SnowBall benefit, hosted at a local venue,  there is a vast array of hors d'oeuvres and a delicious dinner prepared by the talented CC&D's Kitchen, dancing and a raffle full of treasures donated by local businesses.  In August they also host the JoyRide NH Poker Run & BBQ Benefit  . Volunteers spend months planning this fun day for all motorcycle riders. They map out a ride around the region, with stops at local breweries, shops, and merchants to pick up the cards for their best poker hand. After the ride everyone gathers at the Elk's camp in Keene for a big BBQ, music from local bands, games, raffles, & prizes.  This year Joy's has added a memorial "chrome" sponsorship for the JoyRide event.  They are hoping that area businesses, families and friends will help create an impact wall at the camp with the "in honor of" photos. For more info about this sponsorship visit the JoyRide page on their website. There are also links to other sponsorships offered and  the details of the ride on August 10th, 2019.
The "Joy" of Giving
Joy's Network is run solely on volunteers from our community. Some are cancer survivors, some have lost a friend, a family member, or a colleague "We have all be touched in some way" says Kim.  With cancer prevalence in Cheshire County at a high rate of 454.7/100k (higher than the national rate of 436.4) and a growing need for assistance, community support is more important now than ever.  We are always looking for more volunteers and sponsorships.  For more info email us info@joysnetwork.com or call us at 603-762-1800. To learn more about Joy herself you can visit their website here at Joy's Story.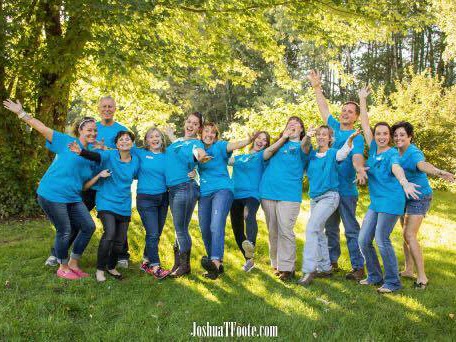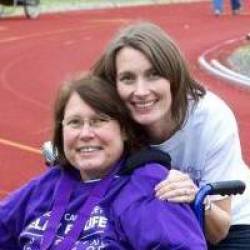 Joy and Kim Relay for Life 2009