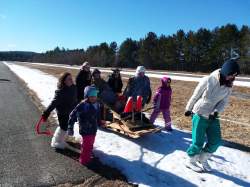 One of the members of the Greater Keene Chamber of Commerce is the Daniel Webster Council – Boy Scouts of America. The Daniel Webster Council (DWC) provides services and youth-development programs to families and community organizations in New Hampshire. Covering the southwest corner of the state of New Hampshire is the Mount Monadnock District, a region of the Daniel Webster Council.
As of Feb. 1, youth of any gender are invited to participate in all age appropriate programs sponsored by the Boy Scouts of America. Cub Scouting is open to K-5th graders. Scouts, BSA (Formerly known as Boy Scouts– same program new name) is for 6-12th graders. Each program is designed with firsthand leadership roles to empower youth and build their charter.
The mission of DWC is to provide youth and families with innovative and exciting programs to inspire learning, build character and community, and develop a workforce for this century. District Executive Collin Butler said being a scout is about being a citizen who is part of their community.
Several events that Mt Monadnock District puts on are happening now. This past weekend the Klondike Derby took place. The Klondike is an opportunity for youth to learn about winter camping and compete in various tests of their scout skills. From fire and shelter building to orienteering and outdoor cooking, Scouts learn the value of networked responsibility and perseverance– all while having fun! The Klondike Derby began on Saturday morning with competitions running throughout the day and ended with a campfire and reverence ceremony.
Next Saturday, February 16, the Cub Scout Cardboard Classic takes place. This event includes youth making their own snow sleds out of cardboard to race down a hill. The sled races take place throughout the day with a bonfire at night. Butler said the event gives kids a chance to interact with others whom they may not have met otherwise.
An upcoming event is the District Pinewood Derby taking place on Saturday, March 9. In this event Cub Scouts, build a toy car from a block of wood with the help of their parents. The cub scouts receive a kit to use and then race the cars down a track to see who made the most successful race car.
DWC also offers other opportunities for youth such as a high-adventure outdoor program called Venturing for 14 to 21-year-olds. In September the Mt Monadnock District hopes to start several STEM Scout Laboratories. STEM Scouts is a co-ed program that combines the values and character building of the Scouting program with hands-on STEM activities. STEM Scouts is open to boys and girls in 3rd through 12th grade.
Butler said he sees all of these as events that can help youth to learn more skills in a variety of ways.
To receive more information about the Daniel Webster Council, visit https://nhscouting.org/